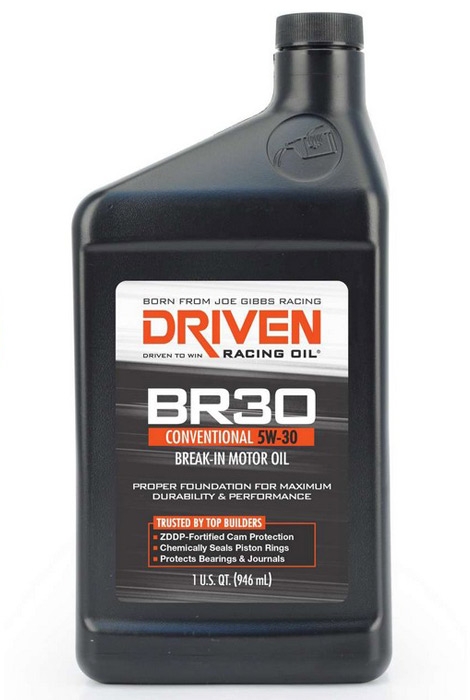 Joe Gibbs BR30 Break In Oil, Ten Quarts
The Foundation For Maximum Durability and Performance
Driven Engine Break-In Oils are used to dyno and break-in all of the engines at Joe Gibbs Racing. This petroleum based oil has been formulated to supply the highest levels of zinc and phosphorus to the cam and lifters. No additional zinc (ZDDP) additives are required. Driven Engine Break-In Oils provide the maximum protection available during the critical engine break-in period. This oil is ideal for testing and power pulls on the dyno, one night of racing or up to 400 miles on the street!
Features
ZDDP-Fortified Cam Protection
Chemically Seals Piston Rings
Protects Bearings and Journals
BR30 5W-30 
- The same high zinc and phosphorus formula as the original BR break-in oil, now in a SAE 5W-30 viscosity for tight clearance and/or low temperature break-in. Good for restrictor plate engines, drag race engines, and modern OEM rebuilds. Provides excellent ring sealing. Viscosity typical of 5W-30.