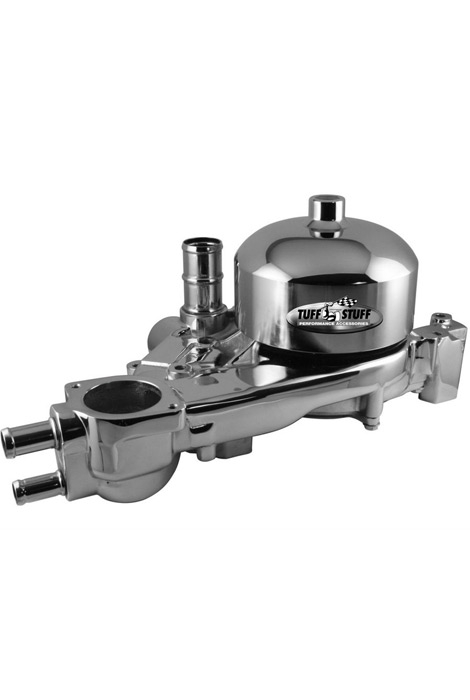 LS1 Polished Aluminum Water Pump With Pulley
Water pump for GM LS1 / LS6 engines, features heavy duty bearings, center shaft and seals for long term dependability, polished cast aluminum housing.
LS1 water pump with pulley polished aluminum 1310B
Part Number: 1310B
FINISH: Polished
UPC: 698252013024
Fitment Notes: Contact us if you have questions about the vehicle fitment for this product.
Tuff Stuff water pumps are hand made from premium quality new components - not remanufactured and are quality built in the USA. Precision-made ball/roller bearings and spin-balanced fan hub sustain higher RPM's. Our SuperCool option includes a custom water impeller that flows 30% more coolant to reduce water temperature by up to 20 degrees. Available in chrome plated, polished aluminum, powder coated or as cast finishes.
2006 Pontiac GTO 364 V 8
2005 Pontiac GTO 364 V 8
2004 Chevrolet Corvette 350 V 8
2004 Pontiac GTO 350 V 8
2003 Chevrolet Corvette 350 V 8
2002 Chevrolet Camaro 350 V 8
2002 Chevrolet Corvette 350 V 8
2002 Pontiac Firebird 350 V 8
2001 Chevrolet Camaro 350 V 8
2001 Chevrolet Corvette 350 V 8
2001 Pontiac Firebird 350 V 8
2000 Chevrolet Camaro 350 V 8
2000 Chevrolet Corvette 350 V 8
2000 Pontiac Firebird 350 V 8
1999 Chevrolet Camaro 350 V 8
1999 Chevrolet Corvette 350 V 8
1999 Pontiac Firebird 350 V 8
1998 Chevrolet Camaro 350 V 8
1998 Chevrolet Corvette 350 V 8
1998 Pontiac Firebird 350 V 8
1997 Chevrolet Corvette 350 V 8